Cold Dead Hands Presents....
A Night of Fast Hardcore Punk with...
Step On It
Black tax
Today We Fight
Heroic Doses
Chillerton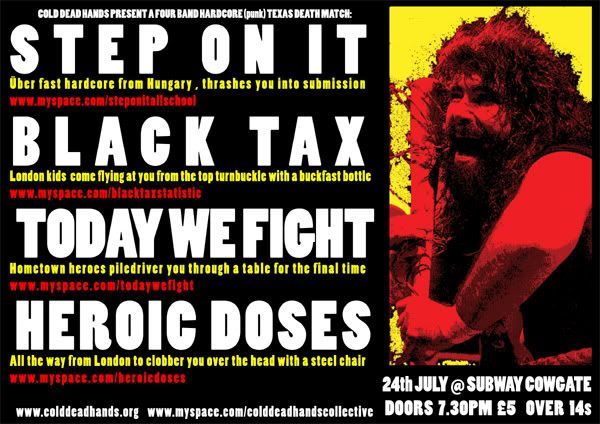 Step On It (Hungary)
Uber-fast hardcore from Eastern Europe. Short, thrashy songs with a metallic edge. Various DIY releases, including an appearance on the recent 625 Records (Charles Bronson, Scholastic Deth, Shank etc) Euro Thrash Retribution comp alongside bands like Mihoen, Knifed etc. No hype, no bullshit, just a great hardcore band.
www.steponit.org
www.myspace.com/steponitallschool
Black Tax (London)
Melodic hardcore from down South, making their third visit to Edinburgh. Think Kid Dynamite on buckfast. An unrelentingly entertaining live band- if they don't leave you with a smile on your face, then you're even more of a miserable cunt than I am, and you should probably give up now.
www.blacktaxstatistic
www.myspace.com/blacktaxstatistic
Today We Fight (Edinburgh)
If you don't know by now...Straight up, no messing hardcore from Edinburgh, think Champion, Bane, Hope Conspiracy etc- i.e. traditional hardcore, with a harsher, more modern edge- youth crew singalongs, harsh vocals and mosh. FINAL EDINBURGH GIG. Come down and see them off in style.
www.myspace.com/todaywefight
www.todaywefight.co.uk
Heroic Doses (London)
Naked Raygun-ish punk from London, lots of wo-ahs and singalongs. On tour with Black Tax.
www.heroicdoes.com
www.myspace.com/heroicdoses
Chillerton
Melodic punk from Portsmouth, ex Jets Vs Sharks.
www.chillerton.com
Monday 24th July
Subway Cowgate
Edinburgh
Doors 7.00pm
(Note earlier doors due to extra band)
£5, over 14s.